Accreditation
"My practice earned AADSM Facility Accreditation simply because we want to be the best in the field of dental sleep medicine."
Dr. Kathy French, DDS, FAGD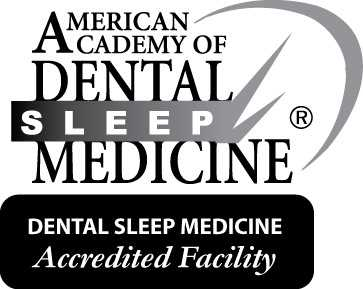 AADSM Dental Sleep Medicine Facility Accreditation is a voluntary process created to recognize competency and delivery of optimal care to sleep-disordered breathing patients. By achieving AADSM accreditation, a facility displays to patients, medical professionals and reimbursement decision-makers that the facility meets the high standards necessary to provide quality patient care.

Additionally, facility accreditation solidifies dental sleep medicine professionals as instrumental to the sleep medicine team and helps facilities build strong medical partnerships. Accreditation supports fair reimbursement for dental sleep medicine services by assuring insurance companies of the high standard of care offered by accredited dental facilities.

All members of the AADSM are encouraged to initiate the process of accrediting their facility. Diplomates of the American Board of Dental Sleep Medicine (ABDSM) and dentists who have
attained the AADSM's Qualified Dentist Designation may currently meet the new eligibility criteria to serve as an accredited facility's dental director.

Dental sleep medicine facilities that seek to earn accreditation through the AADSM must comply with the Standards for Accreditation of Dental Sleep Medicine Facilities. These standards aim to ensure that an accredited facility demonstrates proficiency and professionalism in the practice of dental sleep medicine by providing exceptional therapeutic care for patients with sleep-disordered breathing.

More than 60 dentists nationwide have achieved accreditation for their facilities and are experiencing the multitude of benefits for their practices.
"Patients acknowledge the value of AADSM Dental Sleep Medicine Facility Accreditation and appreciate having a dedicated dentist and staff who are passionate about treating their sleep apnea with oral appliance therapy."
Dr. Roschelle Banks, DDS
AADSM Announces Revised Standards (effective June 1, 2019)
The AADSM has revised the DSM Facility Accreditation Standards to align with the AADSM's Dental Sleep Medicine Standards for Screening, Treating, and Managing Adults with Sleep-Related Breathing Disorders in order to increase focus on the quality of care and provide greater clarity. Accreditation applications received by May 31, 2019 will be evaluated according to the prior accreditation standards; applications submitted after June 1, 2019 will be evaluated according to the revised accreditation standards.
Standards for Dental Sleep Medicine Facility Accreditation
Through adherence to the Standards, accredited facilities demonstrate a commitment to excellence in the knowledge, experience and ability of dental sleep medicine facilities to manage ongoing care for patients.
Accredited facilities must adhere to the Standards for the appointment, responsibilities and continuing education of staff including a dental director, clinical auxiliaries and coding and billing personnel.
Adherence to Standards regarding safety, consumer service and follow-up must be met to ensure that patients receive optimal care at an accredited facility.
Policies and procedures regarding the acceptance of patients, documentation, patient treatment and billing must be developed and followed in order to meet the Standards for accreditation.

"I leverage my AADSM Dental Sleep Medicine Facility Accreditation to help build strong medical partnerships. As a result, my communication with sleep physicians has improved, increasing the number of patient referrals my practice receives."
Dr. Nazila Doroodian, DMD
Accreditation Process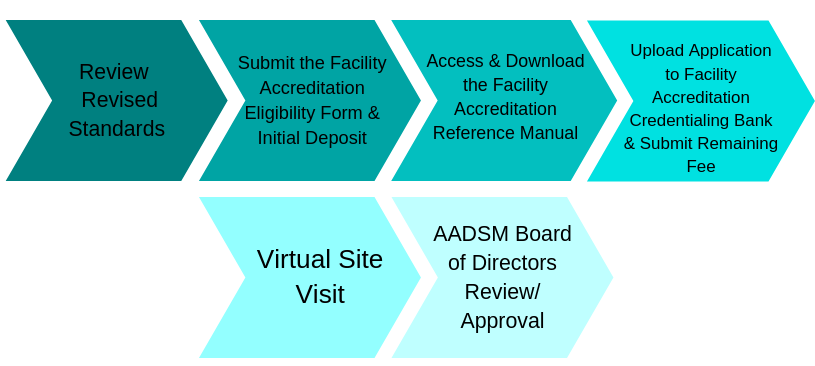 "AADSM Facility Accreditation enhances the field of dental sleep medicine because the medical community recognizes that these dentists are practicing oral appliance therapy at the most professional level."
Dr. Kathy French, DDS, FAGD
Application Instructions:
The new Facility Accreditation application is entirely digital. The facility will utilize the online Facility Accreditation Reference Manual, a digital repository which supplies templates and forms required for accreditation. The facility will upload the required credentials and manual to our online Facility Accreditation Credentialing Bank. Access to these tools will be granted to the facility upon receipt of the initial deposit of $300.
Application Fee
The fee for new facility accreditation is $3000. The facility will remit an initial $300 deposit along with the Facility Accreditation Eligibility Form to begin the application and gain access to the online Facility Accreditation Reference Manual and Facility Accreditation Credentialing Bank. The remaining fee of $2700 is due upon submission of the completed application and Accreditation Reference Manual.
Applications Received Prior to June 1st, 2019
Applications received with a post mark prior to June 1st, 2019 will adhere to the prior accreditation standards and process. Facilities who applied under prior standards will be required, upon conference of Facility Accreditation, to attest that they will adhere to the
revised accreditation standards
effective June 1, 2019. Those facilities will also be required at the time of re-accreditation to comply with the revised standards.
View Prior Accreditation Standards
View Prior Accreditation Process







"When dentists take the time to get their facility accredited by the AADSM, physicians take notice. My facility accreditation showed sleep physicians that I am dedicated to dental sleep medicine and has worked as an endorsement of my skills and my practice. Physicians are confident that when they send patients to my accredited dental office, those patients will receive optimal care for the treatment of sleep apnea. This has significantly increased the patient referrals I receive."


Dr. Nancy Addy, DDS