AADSM Qualified Dentist Designation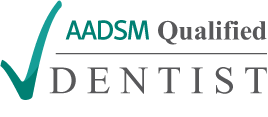 The Qualified Dentist designation is a credential provided by the AADSM for dentists who demonstrate basic competency in dental sleep medicine. The designation must be renewed every two years.
Eligibility
Requirements
Renewal
The AADSM's Qualified Dentist designation can be earned by a dentist who holds an unrestricted license to practice in the US or Canada and/or full-time employees of an accredited dental school who hold an active, faculty-restricted license to practice dentistry in the United States or Canada. All eligible dentists must complete Mastery Course 1.

Dentists who do not hold an unrestricted license and/or practice outside the US, its territories, or Canada are not eligible for this designation.
Eligible dentists who complete Mastery Course 1 are awarded the Qualified Dentists designation upon approval of the AADSM Board of Directors. Mastery Course 1 can be completed through the AADSM Mastery Program or through a program offered by a dental school that has been accredited as an AADSM Mastery Program Provider.

Learn more about Mastery Course 1 here.
To maintain the Qualified Dentist designation, it must be renewed every two years. Renewal requirements include documentation of 15 hours of recognized CE (ADA CERP or AGD PACE) in dental sleep medicine from any course provider.

Learn more about renewing here.

Find an AADSM Qualified Dentist
AADSM members who have earned the designation are listed in the Find-an-AADSM-Dentist online directory.