Qualified Dentist Designation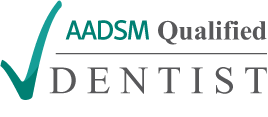 The Qualified Dentist designation is a necessary first step that will position your practice for growth.
What Are the Benefits?
Builds credibility for the oral appliance therapy you provide to treat sleep-disordered breathing
Demonstrates your knowledge of dental sleep medicine to patients, referring physicians and payers
Entitles members to be included in Find-an-AADSM-Dentist online directory

Who is Eligible to Attain the Designation?
The AADSM Qualified Dentist designation is for any dentist in need of a credential that demonstrates basic competency in dental sleep medicine. It is intended to be a stepping stone to becoming a Diplomate of the American Board of Dental Sleep Medicine (ABDSM). Dentists who hold Diplomate status from the ABDSM or who are the dental director of an AADSM-accredited facility already meet the Qualified Dentist requirements and do not need to apply for this credential.Dentists who practice outside the US, its territories, or Canada are not eligible for the designation.
How Do I Attain the Designation?
The Qualified Dentist designation can be earned only by those who successfully complete the AADSM's Mastery Course I. Those who complete the full AADSM Mastery Program (Mastery Courses I, II, and III) will be eligible to sit for the
ABDSM certification examination
. Please visit the
AADSM Mastery Program webpage
for more information on the program and how to register.

How Can I Renew My Qualified Dentist Designation?
Dentists who are not ABDSM Diplomates or the dental director of an AADSM-accredited facility may renew their Qualified Dentist designation every two years by:
Submitting a copy of their current dental license and valid proof of liability coverage
Submitting documentation of 15 hours of recognized CE (ADA CERP or AGD PACE) in dental sleep medicine, earned within the last 2 years, through any provider. Hours gained through online or self-mediated activities are acceptable.
Renewal Fees
Current Active AADSM Member $100 USD
Non-Member $300 USD


Individuals who currently hold the Qualified Dentist designation will receive an email invitation to renew approximately 3 months prior to the expiration date.
Already have the designation and are ready to renew? Click the button below to get started:
If you have questions about the Qualified Dentist designation requirements, timeline or application process, contact the AADSM at
emcintyre@aadsm.org
---