Exhibits and Sponsorships
The AADSM Annual Meeting is the premier trade show to showcase your latest products and services to dentists who practice dental sleep medicine. The 2020 meeting will be held May 29-31 at the Hilton New Orleans Riverside in New Orleans, Louisiana.
IMPORTANT NOTICE: The Academy has been alerted that unauthorized housing companies have been contacting members and exhibitors offering cheaper hotel rates for the AADSM Annual Meeting. This practice, also known as "room pirating," is a scam that all attendees should be aware of in order to avoid passing along personal and financial information. Attendees should only book rooms directly with the Hilton New Orleans Riverside. The Hilton New Orleans Riverside will never reach out to you directly to book a room; they will only ever contact you upon your request.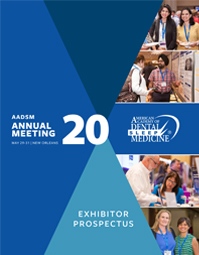 Exhibitor Prospectus
Exhibitor Application
View Floor Plan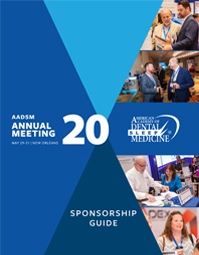 Sponsorship Guide
Sponsorship Application
Other Applications
Industry Product Theater Application
Housing Block Request Application
10 For 10 Program
Looking to save money on your exhibitor application fee for this year's annual meeting? Recruit your dentist clients to join
AADSM
membership and you could receive 10, 20, or even 30% off!
The 10 for 10 Program is simple. For every 10 dentists that join the
AADSM
as a new member as a result of your referral, your company will receive 10% off your annual meeting exhibitor application fee. Recruit 20 new members and receive 20% off, and so on. Dentists must not have been a member of the
AADSM
in the past to qualify.
To take advantage of the 10 for 10 Program, instruct prospect members to visit the
AADSM
website to join online. IMPORTANT: When completing the membership application, they must enter your company name in the "Referral" field. The
AADSM
will use this information to track the number of new members you recruit on the
AADSM's
behalf.
Dentists must join between now and February 29, 2020 to qualify for the 10 for 10 Program. Partial discounts will not be provided. The discount cannot exceed the price on the exhibit booth and has no monetary value. Discounts can only be applied to 2020 annual meeting exhibitor fees. If you refer 10 new members after you have paid your 2020 exhibitor application fee, the
AADSM
will refund the appropriate amount accordingly.
We look forward to your participation!
Refunds:
Refunds will not be applied to the original payment source (i.e., credit card). Any refunds processed by the
AADSM
will be paid by check to individuals in the US (or e-payment to individuals who chose to set up an account in Bill.com) and by wire transfer to individuals outside of the US.